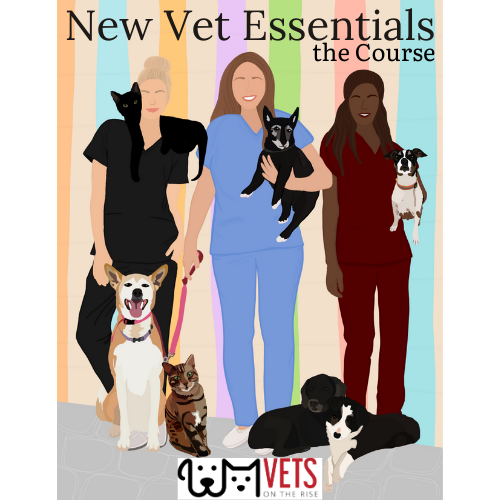 We are SO excited about the
New Vet Essentials Course!
Whether you are at the top of your class or the bottom, it doesn't matter. Your first year out as a new vet will be one of the most difficult years of your career.
Trust us when we say that vet school did not prepare you for it.​
In our course, we combine group mentorship with PROVEN formulas that EVERY VET NEEDS TO KNOW to manage cases like a superstar. 
We touch on some of our methods for mastery on social media, but we save our best stuff for those who take this course! 
Let us get you DAY ONE READY!
What to Expect?
The New Vet Essentials course is our 5 week online signature course that is combined with virtual group mentorship sessions.
It is ideal for those in their 4th year of vet school, about to graduate, or recent graduates. However, any vet student will benefit from it!
Lecture material will take you about 1-1.5 hours per week, so it is easy to do alongside school or a job.
Virtual mentorship sessions will last 30 minutes, and dates will be announced once we know group availability.
Our course will have limited spots to allow us to work closely with our groups so you get personalized attention.
Enrollment is first come first serve and will be offered every 6-8 weeks.
Let us help you transition from
student to thriving vet!
Still not sure if this course is for you?
We created this course specifically with YOU in mind because we did not feel prepared for the real world, and our first year out was extremely tough.
Dr. Gray did an internship, and Dr. Tarantino went straight out into private practice. We had different starts but similar experiences, and we saw new grads and interns struggle with the SAME THINGS that we did.
We don't want you to struggle through your first year, so we created our course to help you build the confidence to practice medicine on day one.
You have all the knowledge in your head...we promise. Let us help you with your mindset, preparation, application, and communication skills so you don't have to struggle too.